L.A Galaxy's owners, Anschutz Entertainment Group, kept David Beckham from joining Tottenham on loan.
Tom Leiweke, the president of AEG, wants Beckham to play a full season with L.A.
"I am the one who made the decision about asking David to come back and play a full season of Major League Soccer because we haven't been able to do that, whether due to loans or injury."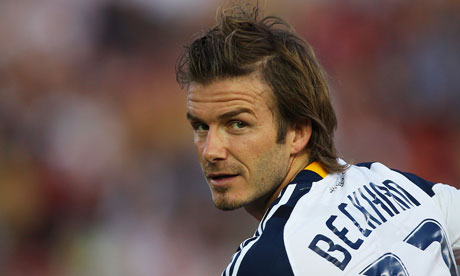 "Our commitment has been, 'David, you need to be back here for the MLS season that begins in March'. It is because we asked for that commitment that the timeline with Tottenham meant it was very difficult for them to figure out a way to integrate David into the team."
Leiweke also said that Galaxy were to persue a "strategic partnership" with Spurs, potentially meaning Tottenham youngsters could be cutting their teeth in the US in the near future.
In other Beckham news, the former England captain recently won the hearts of the British tabloids by helping a stranded motorist on the morning school run.
Paul Young, 42, had his two kids in the car. They broke down at a junction in Hertfordshire, before Becks (pictured here, not looking at some cheerleaders) turned up to save the day.
Young said, "He asked if we were OK and I said. 'Could you give us a push over to the side?' which he duly did."
"Then he asked again if we were OK and as he walked away I said. 'Thanks David, I love you'."
Good lad, Becks. Now how about going back to train with the people paying your copious wages, before you get run over by some besotted superfan on the motorway.
Philip Wright-Lewis
@P_W_L