Sir Alex Ferguson has heaped praise on the MLS, and hinted that he may not be in the game for much longer.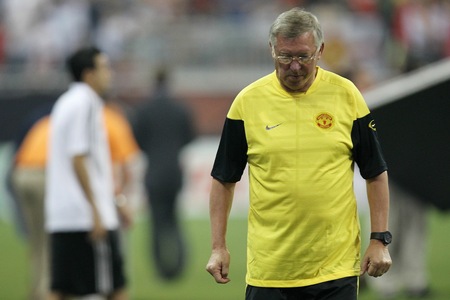 The United manager is currently in New York promoting the All-Stars game (see previous entry for more details), and attended the press conference alongside Thierry Henry of the New York Red Bulls.
The Scot told journalists that MLS teams certainly aren't pushovers: "We're finding it increasingly more exciting each time we come here.
"The big change now is that MLS is now developing into a very competitive league, and is producing teams that make it more difficult."
He went on to mention Sporting KC as one of the teams that United struggled against.

"We found last season, particularly in Kansas City, we found that very, very difficult, which is a measure of the improvement of American soccer. And of course the National Team did very well in the World Cup. There is definitely a very good sense of a good future for American soccer."

Although he's lost his rag with the media more than once, he's still got his sense of humour. When quizzed about how he'd deal with Thierry Henry were he to play for the All-Stars, he joked: "We have a special plan to sort Henry out. I'm bringing Roy Keane back."
But when asked about whether or not he'd ever follow Beckham's footsteps in crossing the pond, Fergie was swift in his dismissal.
"No. I'm 69 - crikey!"
And he might not be at United much longer either. "When I'm finished wih United, in a couple of years or so, that'll be it for me."
Mancunians are all too familiar with speculation over Fergie's retirement date though, and they'll be hoping he sticks around for a bit longer. Sitting at the top of the Prem, contesting the FA Cup and the Champions League, he's still the best in the business.
Few things receive Fergie's golden seal of approval, but it seems Major League Soccer is one of them - quite an honour, if you ask me!

Sources: Associated Press & New York Post
Philip Wright-Lewis
@P_W_L