The league has really started to take shape over the past few weeks, and both Eastern and Western Conferences are looking pretty tight.
The New York Red Bulls are sitting at the top of the Eastern Conf. with 14 points from 7 games. Philadelphia are just a point behind though, with 2 games to play.
Over on the East Coast, LA Galaxy are currently occupying top spot with a 2 point lead on second place Colorado, who also have a game in hand on the Galaxy.
Galaxy suffered a 2-1 defeat last Sunday to FC Dallas, in a particularly stormy game: lightning meant that the game had to be delayed for an hour. The unfamiliar weather (probably coupled with their captain's jet-lag!) meant they slumped to just their second loss of the season. That game took place at the deliciously named, Pizza Hut Park (no joke).
Saturday sees the two conference
leaders meet eachother for the first time this season at the Home Depot Center. Former Villa striker, Juan Pablo Angel, signed for LA from the Red Bulls this season.
Angel spent four years in New York, and he told the
NY Post
that he's looking forward to playing against his old team:
"It's going to be very unique, a lot of emotions playing against the team I played with for a number of years."
He didn't sound too convincing though, when asked whether there was any sour grapes.
"No, no; not for me, that chapter has been closed. I move on. People come and go. Whether I was happy or not happy with way they treated me, or hoping things worked out differently, there is not much I can or could do."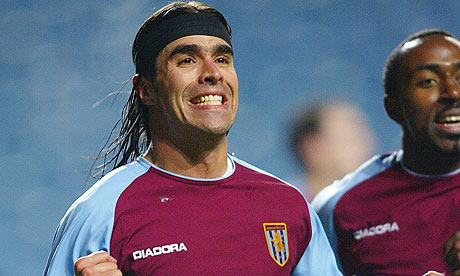 That might well be footballer-speak for: "They couldn't meet my ridiculous wage demands." Take about being an obtuse! As in... obtuse angle... Angel? Sorry.
English fans will remember Juan Pablo tearing up the Prem with Villa in the early noughties. He left for the Red Bulls in 2007. I always thought he looked like a cross between Carlos Tevez and Russell Brand.
Philip Wright-Lewis
@P_W_L