As Robbie Keane becomes the latest big name to cross the Atlantic, we take a look at one of the most interesting and expensive careers in football. We look at his past clubs, his dodgy loyalties and his future with Galaxy.
Player P
rofile -
Robbie Keane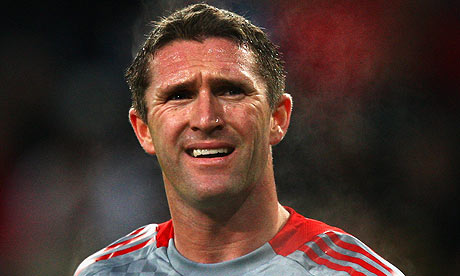 Age: 31

Place of birth: Dublin
Nationality: Irish


Boyhood club: Numerous
Starting his career at Wolverhampton Wanderers, he moved to Coventry in 1999 for
£6m
. Scoring twice on his debut, he soon broke into the Irish national side and attracted attention from continental Europe.
Having spent just one year at Coventry, Marcelo Lippi of Inter Milan signed him for
£13m
in 2000. Things didn't go to plan, and Inter loaned him to Leeds United in the winter of the 00/01 season.
£12m
made that move permanent in the summer, and Keane joined a Leeds side bursting with talent, but blighted by financial crisis. Alongside star players Lee Bowyer, Harry Kewell and Robbie Fowler, Leeds were forced to sell Keane, who joined Tottenham Hotspur for
£7m
.
Enjoying arguably the finest years of his career, Keane became a first-choice forward for Spurs, forging a formiddable partnership with Dimitar Berbatov. His return of 107 goals in six years attracted long-term interest from Liverpool, who spent
£20m
to bring him to Anfield in 2008.
Keane's finest moment for the reds was a
glorious equaliser he scored at the Emirates
, securing a 1-1 draw with Arsenal. But things didn't go to plan, and
after falling out with Rafa Benitez
, he was sold back to Spurs for around
£16m
in the January of the same season.
The Irishman struggled to find his pre-Liverpool form, and after loan spells to Celtic and West Ham, he found he was not in Harry Redknapp's plans for the 2011/2012 season.
Sky Sports
report that Spurs have accepted the
£3.5m
offer from LA Galaxy...
Which, by my reckoning, takes his total expenditure to date up to:
£77.5m
_ _ _ _ _
Keane -
a G
alaxy fan since birth?

Probably not, but I wouldn't put it past him.
Robbie is a well-liked player in England, due to his work-rate and all-round good attitude. But his comments when joining clubs recently have earnt him ridicule.
On joining Liverpool in 2008:
"I've been a Liverpool fan all my life, going back to when I was a kid growing up in Dublin, and I always had a Liverpool shirt on my back. So, to be here now as a Liverpool player is incredible and I couldn't be happier."
On joining Celtic in 2010:
"The club is brilliant. I am a Celtic fan and did not have to ask much about it. I always wanted to play for Celtic."
Of course as a fan, it's nice to hear your new marquee signing express his undying loyalty to your club when he signs. Fans on both sides of the Atlantic will now be waiting to hear how long Keane's been wanting to play for the Galaxy.
_ _ _ _ _
What can LA Galaxy expect from Robbie Keane?


As mentioned earlier, Robbie Keane is a work-horse who always gets the fans on-side by running his legs off in every game.
At Tottenham this worked perfectly alongside the lethargic skill possessed by his partner, Dimi Berbatov (right). Keane would work off Berbatov's scraps and played the part of the quick little man.
But he just couldn't fit into the Liverpool system. Fernando Torres could regularly be seen to be less than pleased after Keane would quite literally get under the Spaniard's feet, often preventing goal-scoring opportunities. His effort was never in doubt though, and Liverpool fans were sad and confused to see him leave.
Most recently, Keane scored 2 goals in 9 appearances at West Ham, who soon succumbed to relegation.
Keane will score goals for the Galaxy, that's for sure (and hopefully, revive his trademark
celebration
). Although they currently sit at the top of the league, five points clear of Dallas, they have only scored 35 goals so far (with Juan Pablo Angel's miserable contribution being a solitary 1).
Fourth-placed Colorado Rapids have scored more than LA Galaxy, who will definitely benefit from the talent of Robbie Keane, even if his fitness (and his loyalty) isn't at 100%.
This is definitely a coup for the club, and although he won't be as high-profile as Becks, he could well prove to be a more important player. As a son of the Republic, at least he won't be expected to miss games for Royal Weddings and such. I predict he will be a hit in the MLS, and wish him the best.
Philip Wright-Lewis
@P_W_L