As the start of the MLS season approaches, MLS Blighty has a chat with Scott Sandalow, who works in Communcations at Chicago Fire Soccer Club.
Although not very famous on
this side of the Atlantic, they are on
e
of
the most passionately supported clubs in the Major League. With their very own
Ultras, they seem to have much in common with the teams we
all know and
love.
In the first of a two-part interview, Scott
gives us a
background to the Fire, their fans, and tells us why Brits should pick
Chicago as their second footballing home.


Most Brits are aware of clubs like New York Red Bulls and LA Galaxy, but don't know much about Chicago Fire. Tell us a little bit about your club.
That's kind of a shame! I think a lot of the teams in England, particularly northern England, have a very working-class background to them. That's definitely what we're about. We're never gonna be as flashy as the Red Bulls or the Galaxy, but the tradition we've developed through the strong, dedicated fanbase is pretty spectacular.
I don't know if you're familiar with our fan group, Section 8, but they display that proud, working-class ethic so much. They deserve to be called Ultras, most definitely. I think what makes them so special is that they're very knowledgeable. We as a club have developed a great relationship with them to make them a real part of the club. Our partnership with Section 8 is part of what makes this club special.
Aside from your fiercely loyal support, you're also famous for your youth development system. Is that a reputation the club enjoys?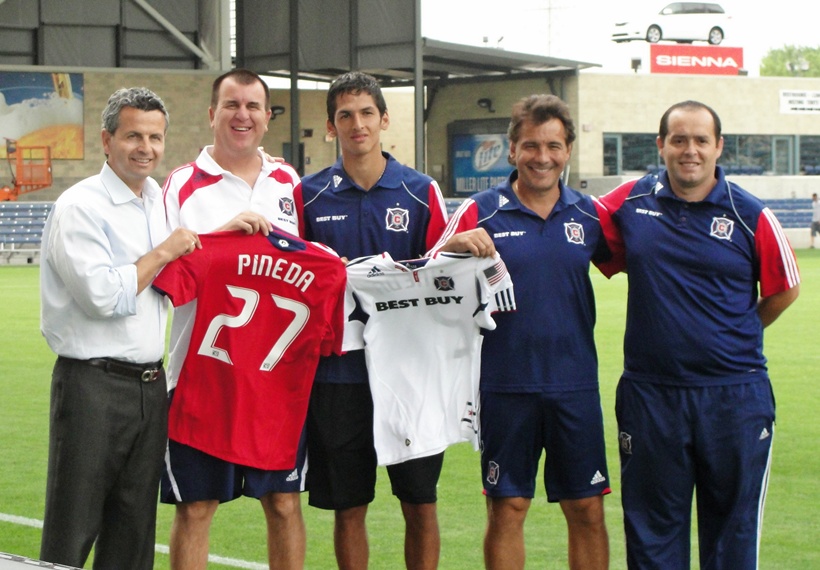 Yeah, I think we've had some very strong players. Players like DeMarcus Beasley and Carlos Bocanegra, who've played at the top level. We're still cultivating that now. We just signed our first academy player late last year, Victor Pineda. He's from the neighbourhood and he's really gonna stand out. That was a huge step in the right direction for us.
I think that a lot of people in England don't realise that there is a very established, well-crafted youth system in the MLS and especially in Chicago.


You missed out on the play-offs and only finished 4th last season. How drastically do you have to improve to do better this term?
First of all I should start off by saying that personally, I am very confused by the play-off system in the MLS. I think that going through a two-conference system (whereby we were playing in a Western Conference final two years ago) that it's such a confusing system.
Especially for people new to the league, like those reading your blog. They're bound to be confused as to why it's structured the way it is. I'm not even sure myself! It would make the most sense to go to a single table. It would be a greater reward for who won the Supporters' Shield as well.
For us as a club, we have to improve. The team's a lot younger, a lot more athletic and the guys have a lot more to play for. These guys are very hungry.
For any Brits looking to pick a team to follow in the MLS, why should we go with Chicago Fire?
We're the team British fans can find the most in common with. This is a team where you can establish a connection and get to know the guys – unlike any other team in the league. We're a club that really reflects the city, unlike a team like the Galaxy, which really can't reflect a city like L.A; the Red Bulls can't reflect a team like New York.
The players and the staff are a perfect reflection of the city. And that makes us one of the most genuine teams in the MLS. It should be very familiar for you guys. Most fans in England aren't just Manchester United or Chelsea; they support their city. They're proud of where they're from, and what their team has accomplished.
What we've done is great. For a team to win the double in their first year is an amazing feat. Coupled with our home-grown talent ethic, this is something that I think English fans could really pick up on.
...You mean a strong national identity within the squad?
Yeah definitely and you won't find that with most teams in the league. All these are great reasons why I would love to English fans identify with the Fire.
___
Coming up in part two: Scott gives his views on Europe's connections with the MLS, the return of the New York Cosmos, and the future of football in America.
Special thanks to Scott for his participation.

Philp Wright-Lewis
@P_W_L