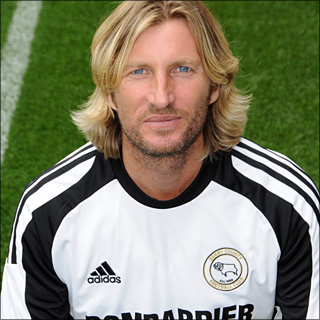 Two of the girliest men in European football, Robbie Savage and Diego Forlan, have been linked with moves to the MLS recently.
Despite sharing similar hair-styles and both looking like dinnerladies, there is surprisingly very little else they share in common.
Savage had been approached by Canadian side Vancouver Whitecaps, and despite being impressed by their "presentation", has decided that he'd rather stick to winding us up via the BBC.
He said on Twitter: "It was a massive call but I've worked hard in the media to get where I am and took good advice from people. So it's going to be media full-time in August or anot
her club."
Meanwhile, Robbie's evil twin Diego Forlan, was rumoured to be weighing up a move to Seattle Sounders. Manager Adrian Hanauer paid tribute to the winner of the 2010 World Cup Golden Ball, saying, "We have watched and admired the play of Diego Forlán for a number of years, and we would be thrilled to have a player of his quality join Sounders FC."
He has since denied the link though: "There is no substance to these current reports that Sounders FC is negotiating with Atlético Madrid and the player to bring him to Seattle."
Spurs are also rumoured to be interested in the Uruguayan striker. Manager Harry Redknapp was the victim of a street robbery in Madrid, where he was scouting Forlan, last week.
Continental street criminals have been recently been preying upon unsuspecting Premier League managers; this incident coming only months after Sir Alex Ferguson was mugged of £7m by a homeless Portuguese man.
Philip Wright-Lewis
@P_W_L